BORSIG ZM Compression GmbH
Borsig Group, with its subsidiaries Borsig Process Heat Exchanger GmbH, Borsig ZM Compression GmbH, Borsig Membrane Technology GmbH and Borsig Service GmbH, is an international leading company group for industrial equipment, compressor units and systems with membrane technology.
BORSIG ZM Compression GmbH specializes in design and manufacture of reciprocating and centrifugal compressors, compressor stations and blowers for air and other gases.
Consistent customer orientation that goes hand-in-hand with expertise acquired over generations has made BORSIG ZM Compression GmbH one of the world's leading compressor manufacturers for refineries, the chemical and petrochemical industry, natural gas storage and the transportation of technical gases as well as for power supply companies and power plants.
BORSIG is a world-class company offering services worldwide.
:::: Compressors BORSIG ZM - commitment for life ::::
:::: COMPANY ::::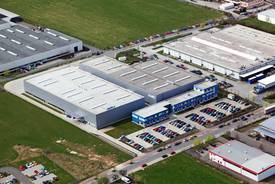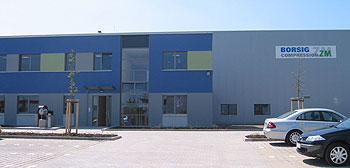 Excellent engineering, durable products and outstanding service – this is what BORSIG ZM Compression GmbH stands for. Being within the BORSIG Group the company profits from the competence and power of the world reputed traditional brand BORSIG - for the customers, employees and company.
Using first class materials, Borsig manufactures compressors that are distinguished by absolute precision, value retention and reliability – Products made in Germany. In permanent use across the globe with impressive performance. The company pursues the principle of sustainability which in turn allows them to develop new products and services, to transcend limits both on a technologic and personal level. Day after day Borsig combine state-of-the-art engineering with 175 years of mechanical engineering know-how.
Individualism and flexibility are both an obligation and commitment. There is no solution that is so similar that it can be transferred unchanged to another task. The company wants to grow with their responsibilities, with you and for you.
:::: QUALITY AND CERTIFICATES ::::
Mechanical engineering experience of the company goes way back to the year 1837. Today it is a guarantee for quality and outstanding German engineering.
Planned by the best minds, realized by the most talented hands, Borsig machines satisfy even the strictest of international quality standards. Precision and devotion to detail reflect the high production standards.
Having made a decision in favour of a compressor by BORSIG ZM, you can not only look forward to excellent after-sales services but also the above-average service life of all Borsig compressors.
The company guarantees highest product quality and durability thanks to the qualified engineers and technicians, state-of-the-art production processes and continuous quality assurance. The quality management system has been certified to DIN EN ISO 9001:2008 and DIN ISO 14001:2005. High quality standards are also verified by additional certifications such as the SCC** certificate (Safety Certificate Contractors).
The company also uses state-of-the-art 3D measuring equipment such as FARO scanners, laser trackers and measuring arms for precise measurement of all parts.
:::: MANUFACTURING ::::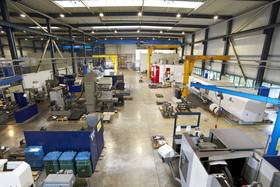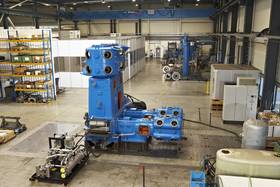 The factory halls offer more than 11,000 sqm of space equipped with cranes that can lift up to 100 t.
The heart of the reciprocating compressor manufacturing are two CNC drilling machines with a maximum travel path of 14 m, a piece weight of up to 40 t and a modern programming system. The centrifugal compressor impellers are produced on a 5-axle milling centre. Complex processing tasks, their simulation and error-free execution are part of the company's daily work. Borsig also process forged parts, cast steel and modular graphite cast-iron.
Borsig complex machines are the result of the perfect interaction of all the individual components and a precise assembly.
Testing of ready-assembled units is performed on a specially designed test rig at the plant site. Company's specialists provide guidance and on-site unit installation monitoring, conduct commissioning, warranty and post-warranty service over the lifetime of the unit.
:::: KEY HISTORICAL EVENTS ::::

In 1837 August Borsig founded the traditional company BORSIG.

In 1841 the first steam locomotive designed by the company and the first balancing steam machines were built. One year later, the Zwickauer Maschinenfabrik was founded by Mr. Dorning and Mr. Tones producing steam machines and pumps for the coal mining industry.

In 1852 work began on constructing steam engines.

In 1857 the company started manufacturing the first reciprocating compressors.

In 1960 the manufacturing of integrally geared turbo compressors was started.

In 1997 the company developed a reciprocating compressor series for CNG filling stations.

In 2004 BORSIG ZM Compression GmbH became a member of the BORSIG Group.

In 2006 the new production site in the town of Meerane in Saxony was inaugurated which has been continuously expanded and enlarged since then.

In 2007 BORSIG ZM started to manufacture an updated Bx series.

In 2009 BORSIG ZM took over the Flensburg company COMPART Compressor Technology GmbH. This manufacturer of compressor valves was renamed BORSIG Compressor Parts GmbH in 2011.
Today, the names BORSIG and ZM still stand for inventiveness, innovative spirit and ambition - in the spirit of the company founders. The company continues to build on their know-how gathered over the past 175 years.